on

 
About the box
The seasonal scent subscription boxes from The Perfume Society are released once a quarter, with the Spring box being the one shipping right now. The boxes aim to provide an answer to the question: what is the best scent to wear this season? With a mixture of high street, designer and niche fragrances contained therein. The Spring box for 2023 also includes a Roger and Gallet soap.
The packaging of the Spring box is worth mentioning. The box itself and the sleeve surrounding it are both cardboard, as is the inner packaging making the whole thing recyclable aside from whatever the samples themselves have been provided in (most are in cardboard, one or two are in plastic – but that would be up to the perfume houses themselves to decide).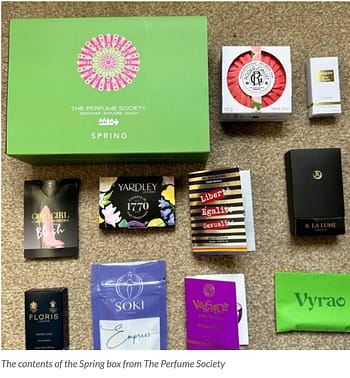 The fragrances
Santal Extreme by A La Lune
Listed notes: Saffron, angelica, amber, frankincense, oud, benzoin.
Santal Extreme is a rich and dark woody fragrance which speaks more to me of winter nights out than springtime rising sap. Nevertheless, it is the sort of scent which will see you through any soirees which should come your way during this season. Santal Extreme takes you to the depths of the forest with deep, dark woods offset by rich, warm spices which lend a hint of danger and intrigue to the composition. The amber is sweet and shiny, its purpose to bring a touch of light to an otherwise nocturnal scent.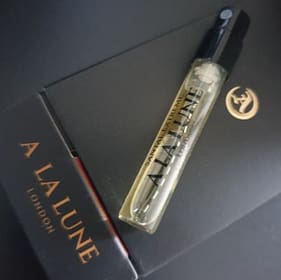 Bluebell and Sweet Pea by Yardley
Listed notes: Citruses, bergamot, lemon, cassis, blue bell, sweet pea, jasmine, rose, lily-of-the-valley, peony, vanilla, woody notes and musk.
There is a lovely biting green floral tone to Bluebell and Sweet Pea which gives it a stronger character and slightly more backbone than Blossom and Peach. Pleasant and inoffensive, this would be a good fragrance to purchase for someone who is just getting into scents or as a present for someone who you don't fully know their tastes.
Freesia and Bergamot by Yardley
Listed notes: bergamot, lemon, mandarin, cypress, freesia, lily of the valley, ginger and pepper, sandalwood, musk and amber.
Freesia and Bergamot is the most uplifting of the Yardley group with a lovely bright citrus opening which is remarkably addictive. Of the four, this is the one which I think most smells like it is punching out of its (very inexpensive indeed) price point. Yardley may once have had a reputation for being a bit old hat, but you definitely don't get that vibe with Freesia and Bergamot which is both youthful and rather compelling.
Magnolia and Fig by Yardley
Listed notes: bergamot, fig, blackcurrant berries, magnolia, jasmine sambac, vetiter, guaiac wood and patchouli.
Lovers of the fig note will find themselves satisfied by Magnolia and Fig which includes those bright, figgy tones, a tartness from the bergamot and blackcurrant, and sets it all on a warm, woody and slightly earthy base. This would be a good fragrance to spritz after the gym, perhaps, to provide a boost of refreshment and energy, but without overdoing it.
Good Girl Blush by Carolina Herrera
Listed notes: Bergamot, mandarin, peony, rose water, ylang-ylang, vanilla and tonka bean.
This sample, rather than being in a typical sprayer, is in one of those pull up cards which I never find particularly satisfying or generous in the way in which they dispense fragrance, however, in this case I shan't lament too much. Good Girl Blush is an incredibly sweet fruity floral which feels quite ubiquitous. Good for those who want to blend into the crowds of sweet fruity florals out there.
Liberte, Egalite, Sexualite by Jean Paul Gaultier
Listed notes: Citrus, neroli, musky blond woods.
Liberte, Egalite, Sexualite is a upbeat fragrance with a riot of zingy citruses to open the scent. Of the designers, this one was the most satisfying and uplifting both in terms of the notes that it opens with and also the punch that it packs. The citruses are bolstered by a lovely, hefty neroli and as they wear, they soften into warm, sensual light woods. A very satisfying scent at an accessible price point.
Empress by Soki
Listed notes: Strawberry, peony, rose, popcorn, patchouli.
My teeth hurt when I smelled this fragrance. It takes sweetness and dials it up way past eleven. The popcorn note is quite dominant at first and at times, when combined with the vague fleshiness of the strawberry, it becomes vomit-reminiscent, just ever so slightly. If you love sweet fragrances and cannot get enough of them then by all means try this one, you won't be disappointed by the hit of sugar that it delivers, but if you like fragrances more balanced and chic, perhaps this is one to avoid.
Dylan Purple by Versace
Listed notes: Bitter orange, pear juice accord, bergamot, purple freesia, pomarose, mahonial, iso e super, cedarwood, ambrofix, belambre, sylkolide.
There's something intriguing about Dylan Purple which I can't quite put my finger on. It reminds me of buying penny sweets as a child. Dylan Purple is the bright, round, shiny purple gobstopper that will take the rest of your money. You want to buy it, but part of you worries that it might be too sweet. That push/pull tension in the scent does make it interesting, especially where the citruses and fruity accords butt up against the shiny amber base. It's a weird one, but one which is definitely worth smelling to make your own mind up on.
Rose d'Isparta by Boucheron
Listed notes: Incense, ambrette, ginger, Turkish rose, saffron, cinnamon, hawthorn, freesia, vanilla, amber, tonka bean, sandalwood and musk.
Rose d'Isparta is the most perfectly balanced and interesting rose. It has soft, smoky facets with a beautifully unctuous and sweet base. The rose is definitely present, but it hovers perfectly between dark, fleshy, sweet and jammy, somewhere right in the middle of all those facets and all the more alluring because of it. The zesty lift of ginger is a lovely and unexpected addition.
Honey Oud by Floris
Listed notes: Bergamot, honey, oud, patchouli, rose, amber, labdanum, musk, vanilla.
Honey Oud is a really good fragrance for people to try if they are wanting to get into the genre of fragrances which are deep, dark and spicy. Here the oud accords are tempered with honey and vanilla sweetness and these elements bring some light into what would otherwise be a really moody composition. Bergamot provides some lift and movement in the start, and the rose, patchouli and labdanum all add a sense of opulence and complexity to the main body of the fragrance. Sophisticated but accessible is how I would describe this scent in two words.
I am Verdant by Vyrao
Listed notes: Bergamot, cyclamen, iris, frankincense, orange blossom.
I am Verdant is the most truly spring-like fragrance in the bundle, it simply exudes that feeling of rising sap, new growth and a return of vitality. There is a peppery, celery like greenery in the opening bars of the scent which lifts the spirits. This is followed by a cool vegetal sense, which calls to mind lush, thick grasses, or deep, shady undergrowth. If you want something verdant, then this scent is not lying about being that!
Buy it
The spring scent subscription box is available now from The Perfume Society website where it is priced at £18 for a quarterly subscription, or £68 for an annual one.